Happy and free like a child...
⤺
Our children farm in South Tyrol: Time for yourself and your loved ones
Our farm is ideal for a family vacation: There is always something going on – minus the traffic. The kids (and the adults, too!) are welcome to help us in the stables. There is ample space on and around the farm for playing.
In the summer there is no space for boredom while jumping on the trampoline, doing handicrafts or playing in the forest. The area around Brixen offers a wide range of leisure activities: horse riding, mountain biking, hiking, paragliding and swimming – everything is possible!
Even during the winter holidays, children and grown-ups may discover the farm and stable work. Your children may romp and play freely in the snow at our children's farm in South Tyrol, not only when skiing on Mount Plose, but also with snowball fights, building snowmen and tobogganing on our meadow.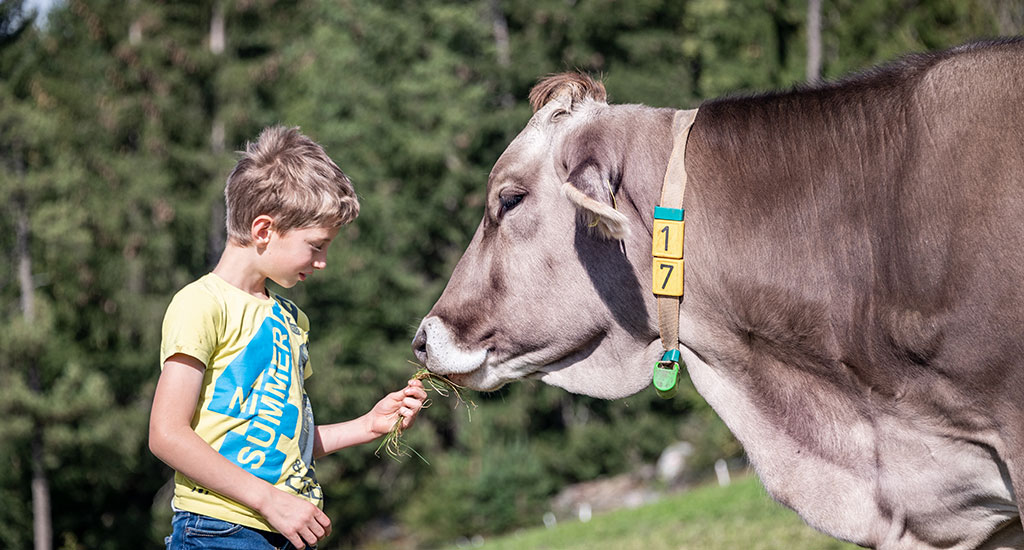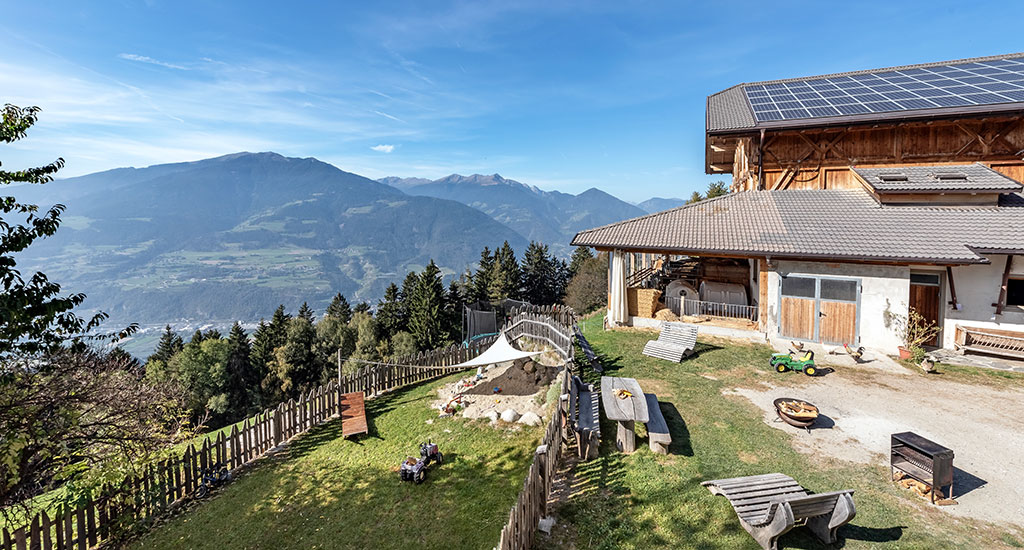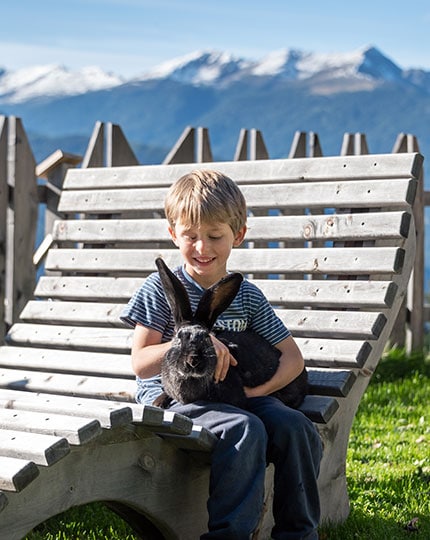 Here you can experience genuine agriculture
Hands-on farm – Here, you can experience mountain farming while it's happening!
We are happy to take adults and children to the cowshed and to milking. We explain to you the cycles of nature and what a dairy cow does. You can experience first-hand how milk and meat are produced and how we achieve good quality produce. You can feel it, taste it and see how it works! Our hands-on farm – an exciting experience for everyone!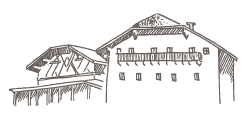 With heart, hand, and sense – Learn and discover at our farm for children!
At and around the farm there is almost no traffic and plenty of open space for imaginative play, romp, and discovery. Besides the playground and the stable, the nearby forest also invites you to build and create. The well-maintained children's equipment in the holiday apartment makes holidays with children on the farm carefree and uncomplicated. Wellies and mud pants are necessary when children are out and about!
Do you have kids, but still favor hassle-free traveling? We can help. For an uncomplicated family vacation, we are happy to offer the following children equipment upon request:
Crib
Bed enlargement: three children fit comfortably in king-size bed
Changing table in the bathroom
Stool
Kids' Toilet Seat
High Chair
Child carrier for mountain hiking tours
Stroller all-terrain
Washing machine
Please let us know at the time of your reservation what you need!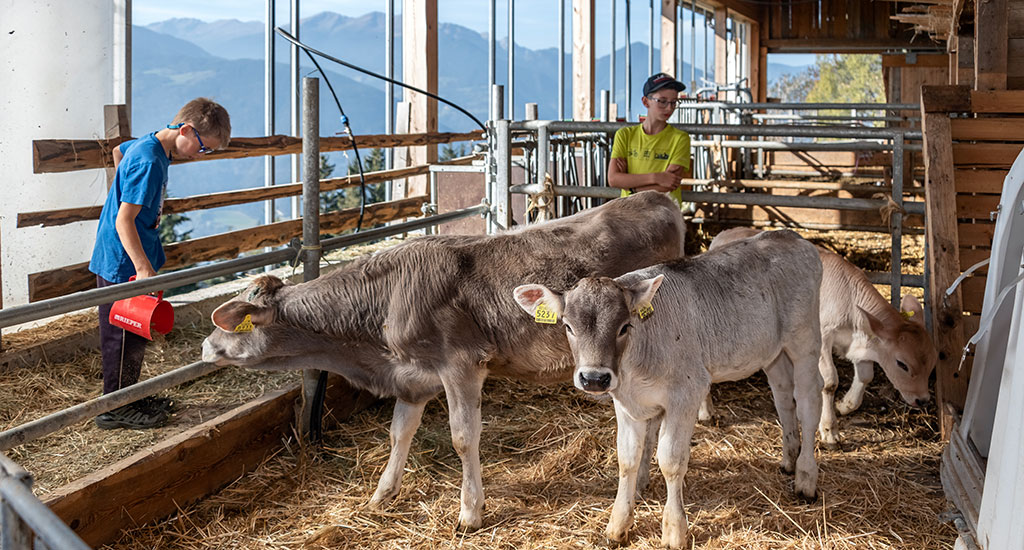 The animals at our farm
At our children's farm there are dairy cows, pigs, chickens, cats, rabbits and a horse. During your farm holiday you may hear, see, smell, feel the animals … experience them with all your senses. We invite guests to accompany us during our daily work.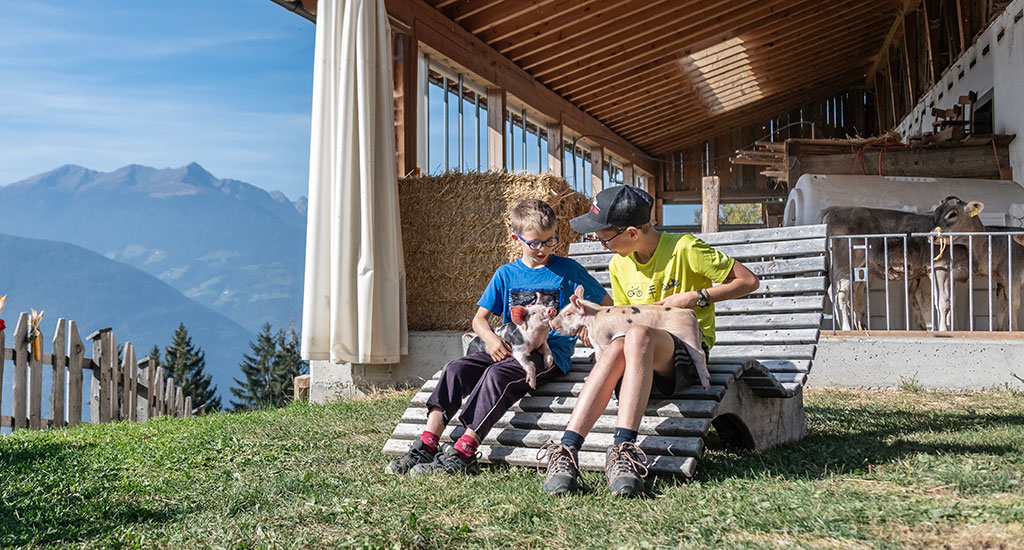 On the hay bales … ready … GO!
You don't know what to do with your lively kids? Then send them to the hay bouncy castle for a while. There they may play around in the hay, romp freely and let their imagination run wild while building a hay camp. A great adventure awaits your children here: sleep in the hay for one night!
Would you like to be creative together with your children? In the handicraft corner with workbench, you will find many ideas, instructions, tools and materials to be creative with your children. This way, even the grayest rainy days on the children's farm go by in a flash … and one or the other hand-made souvenir will come home with you.