Feel-good ambiance – Our holiday apartments at the farm in Brixen/South Tyrol
We offer two beautiful apartments on our historic, meticulously renovated farm. Both of them feature the perfect mix between tradition and modern convenience and style. Our sun-drenched apartments exude calm and coziness. We equipped the holiday apartments with furniture made from our own stone pine forest. It beckons you to relax and unwind.
Stand on the balcony and take in the breathtaking mountain Alpine panorama. Here, you can finally unwind and just relax..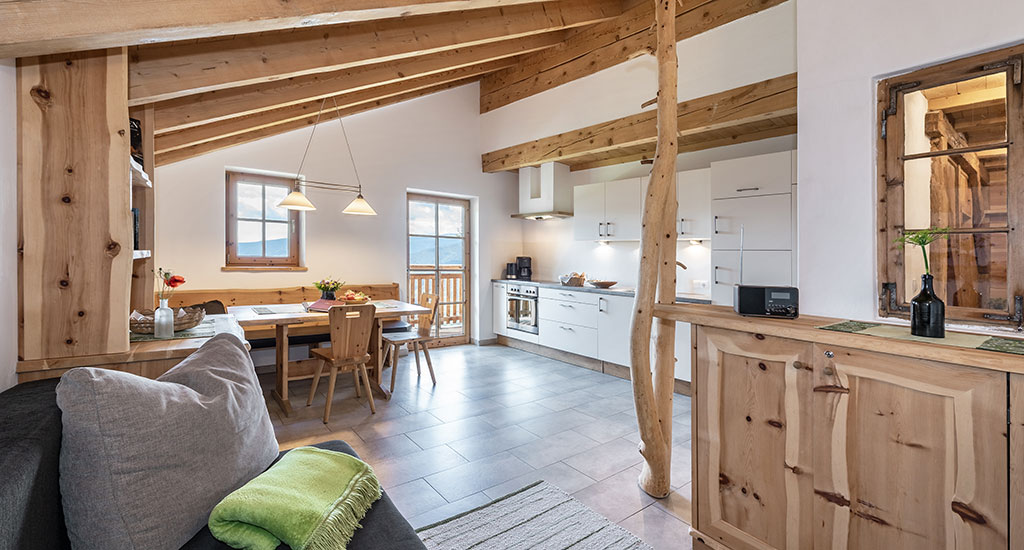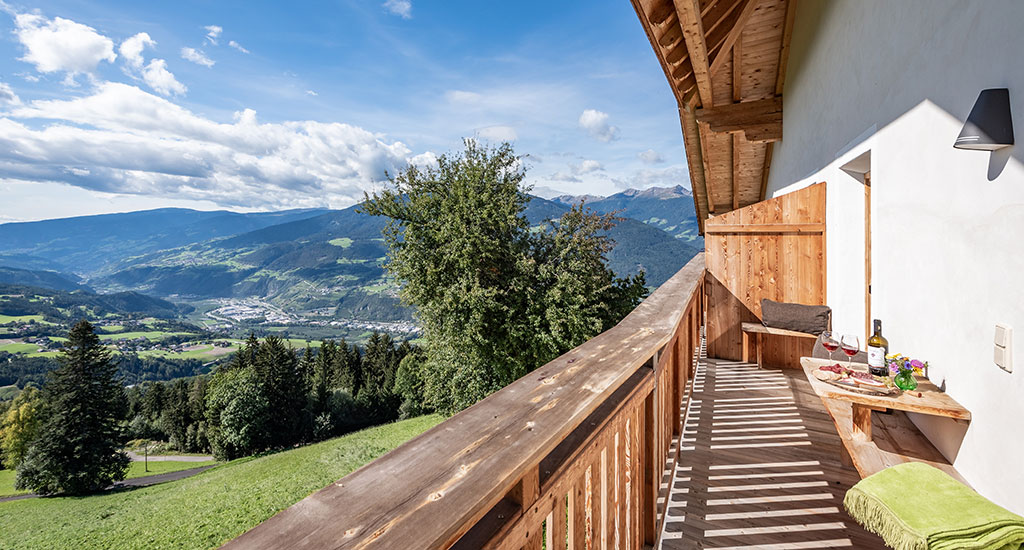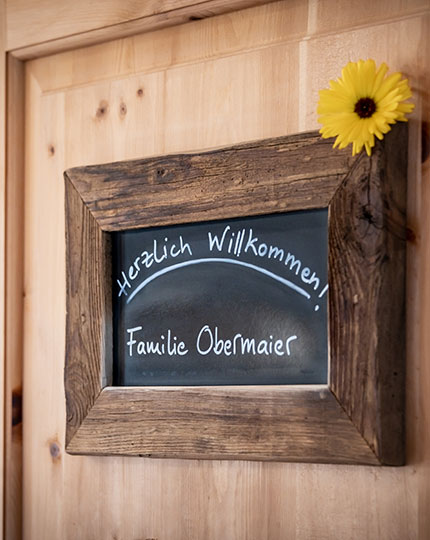 Here, you may fully relax and unwind
Relaxed living, surrounded by nature with a panoramic vista
Sundrenched Rooms – Smell of Pine Wood – Attention to Detail… signature features that make our apartments so cozy. Through meticulous detail work, we renovated our historic farmhouse with our own hands. We paid special attention to an ecological approach as well as to the harmonious combination of historic and modern elements, without tampering with the original character of the house.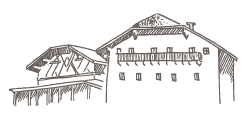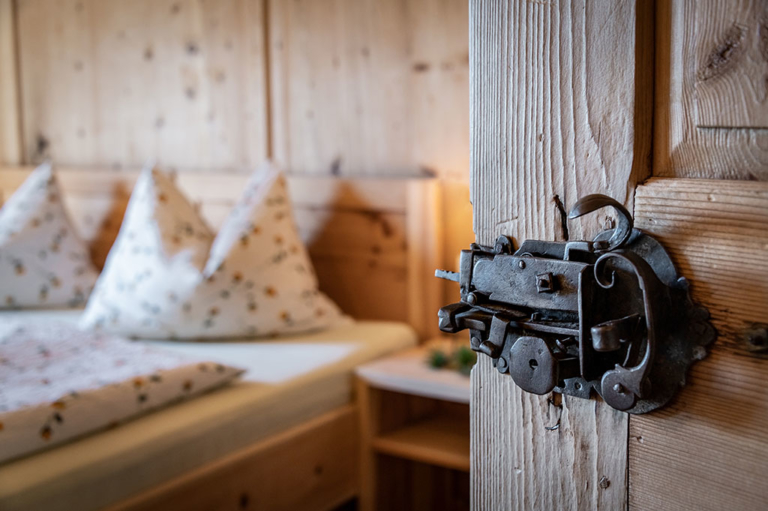 Holiday homes in Stone Pine
The Swiss Stone Pine – Darling of the Mountains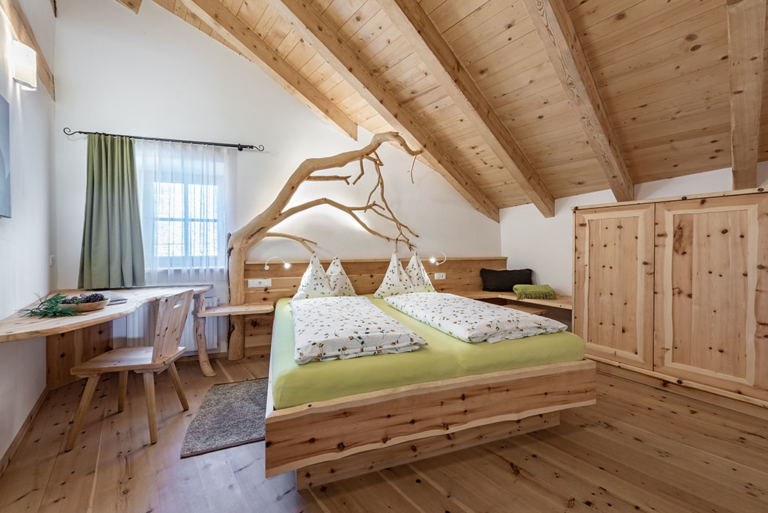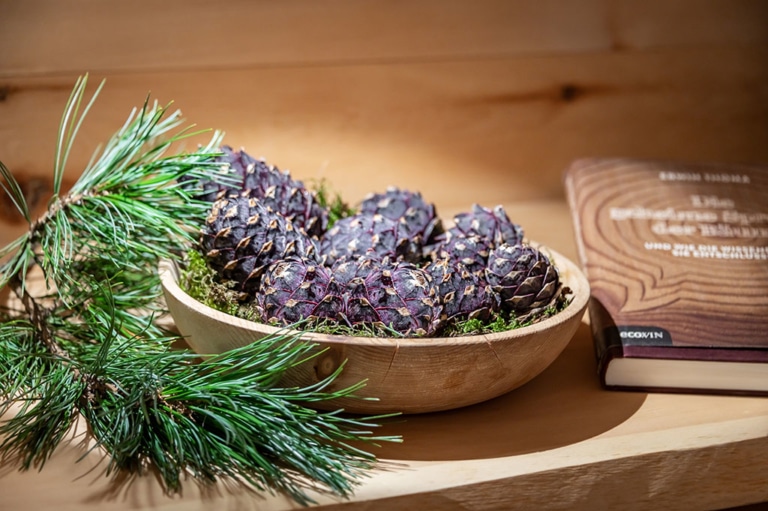 As you walk through the apartment, you will find it everywhere: the Swiss stone pine. The floors, the window frames, the historic paneling, and the brand-new furniture: They are all made of the wood with its aromatic scent and dark branches. The pine (pinus cembra) only thrives in high mountains. It is a symbol of endurance and vitality. Pinewood is known to lower your heart rate, support your nervous system, and promote sound sleep. All of the wood used in our apartments is sourced from our own forest. We handpicked the trees, cut them, saw and dried them right here on site. The furniture was handmade by a local carpenter according to our ideas.
Apartment "Ferienglück"
65 m² on the 1st floor | for 4 to 5 people | from 100 € for 2 people

The apartment "Ferienglück" offers approx. 65 m² and has a spacious kitchen-living room with a sofa corner and a balcony, a bathroom and two separate bedrooms, each with a double bed. The kitchen is very well equipped: If you wish, you may not only cook here, but also bake a cake. The apartment is designed for 4 to 5 people, additional occupancy is possible by arrangement. BrixenCard included >
Rates & Conditions
Period
Price for 2 people





Price for 4 people


(2 adults + 2 kids 3-12 years)

10.09. – 22.12.23
100 €
120 €
Offer available >
23.12.23 – 07.01.24
110 €
130 €
06.01. – 18.05.24
105 €
125 €
Offer available >
19.05. – 07.09.24
115 €
135 €
08.09. – 21.12.24
105 €
125 €
Offer available >
Equipment apartment
Apartment
Living room with kitchen 25 m²
Bathroom
2 separate bedrooms for 2 to 3 people each
Balcony
Internet
Free Wi-Fi throughout the apartment
Kitchen
Dishwasher
Refrigerator & freezer
Ceran hob with 4 hotplates & oven
Coffee maker, kettle & toaster
Mixer and cake pan
Other equipment
Satellite TV
DAB radio
Hair dryer
Washing machine (in the laundry room)
Shoe dryer
Apartment "Urlaubsfreude"
65 m² on the 1st floor | for 4 to 5 people | from 100 € for 2 people

The apartment "Urlaubsfreude" offers about 65 m². They each feature a spacious open-plan kitchen, including a sofa seating area and balcony, a bathroom and two separate bedrooms with a queen size bed each. The kitchen is completely equipped, ready for the ambitious cook … and baker, too. The holiday apartment is suitable for four to five people. Additional visitors are possible upon agreement. BrixenCard included >
Rates & Conditions
Period
Price for 2 people





Price for 4 people


(2 adults + 2 kids 3-12 years)

10.09. – 22.12.23
100 €
120 €
Offer available >
23.12.23 – 07.01.24
110 €
130 €
06.01. – 18.05.24
105 €
125 €
Offer available >
19.05. – 07.09.24
115 €
135 €
08.09. – 21.12.24
105 €
125 €
Offer available >
Equipment apartment
Apartment
Living room with kitchen 25 m²
Bathroom
2 separate bedrooms for 2 to 3 people each
Balcony
Internet
Free Wi-Fi throughout the apartment
Kitchen
Dishwasher
Refrigerator & freezer
Ceran hob with 4 hotplates & oven
Coffee maker, kettle & toaster
Mixer and cake pan
Other equipment
Satellite TV
DAB radio
Hair dryer
Washing machine (in the laundry room)
Shoe dryer